I would like to talk about South Africa where I went in February 2014.

For me to go to Africa , there is little reason


When I was a teacher in 2005 , I have lost a student because of unexpected accident . I
attended his funeral , and I heard from his mother "my son seems to have wanted to do something for the poor in Africa"


This word has been deeply beat my heart . Because
my father died a cause of cancer in 2002 , I could experience the death. I thought that I could receive my student's death by this experience , but it was not good at all .


When a person younger than myself , was seen to be there quietly with a clean face as transparent in the coffin , I was really shocked.


After I saw off the coffin , I told mom .


" Your son's dream was cut off , but you can rest assured . I will take over his dream "


I'm not sure yet whether I said such a thing , but why , I think it was my true feelings . His mother
was telling me this also


" My son always talk to you "


Tears flow anyway , there was no way . I
always regreted that I do not have anything for him.


The memories of him , there are only three months only . T
he accident occured as soon as he entered the summer vacation of the second year of high school


In my class , I remember that he always was smiling.


In the funeral , there were also women students was crying so as to cling to the coffin .
I also was
in charge
of
her in other class.

Since then , her face became gloomy. She was vey smart , but is leaning against the desk like rejecting her reality.


I've been thinking, " the young girl would be painful by the death of her friend" and


Also class of student who died , was trying to always as bright guys , but it was incongruous state somewhere , they made a show of courage


Then, in March 2006 , I quit my job.


It told me that a woman student had that there is a story to me at that time . I was
not able to imagine anything , but she told me that she was his girlfriend.


She said " He respected only you "


This was a shock really .
.
.
I thought that it was overrated , but I was happy for him to evaluate me


I think again , I don't do anything...


She also said, " my boyfriend's mother want to give me her son's books , but I do not understand. Tha's why it is too difficult , sir ? Why not go to his home to get books with me"

I refused her offer.


As my feeling , I had not a right to get books. I should realize our promise.

I stuiedy in France from 2006 to 2007 , I worked as a salaried worker in 2007~2013 , but I was always thinking about him.


I had guilt feeling.


Without saying to people even if there is trouble , I overcomed my trouble. When leaving the company , and they were all surprised by a reason to quit.


The teacher left the 29-year-old , I have retired from the company in 36 years .
I think this is a training period for me. I had a p
hilosophy major , because I had been studying Buddhism , I know Buddha started his training at 29 years old, was spiritually awakened at 35 years old


In about 35 years , I decided to obey the impulse that appears most strongly in my mind , and I shall offer my life since I was a 20's .
It is whether the promotion of the company , and whether the marriage , I did not know at the time, it was decided as a result that I take over the dream of my student.


I knew that under the influence of colonization , they spoke in English or French.
Since I speak a little French , to manage to English ,we learn English for half a year in the Philippines.


And I returned in November 2013, and went to Africa in 2014.


Wow I'm sorry introduction is long


Since we promised between me and mom of student , time has passed about eight and a half years .
I think it is completely different between me and person to go to Africa in the tourism. I finally visited in Africa

Destination is South Africa . He was
in prison for 27 years , and I would like to know the country of those who fought against discrimination in the indomitable fighting spirit


Name of the person is Nelson Mandela.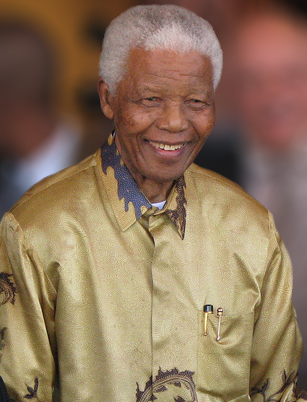 Because of chicken heart , I rejected Johannesburg. It is said that the city of the world worst , therefore I went to Durban.


Here also is not enough security


I saw that scenery on the way to the hotel as below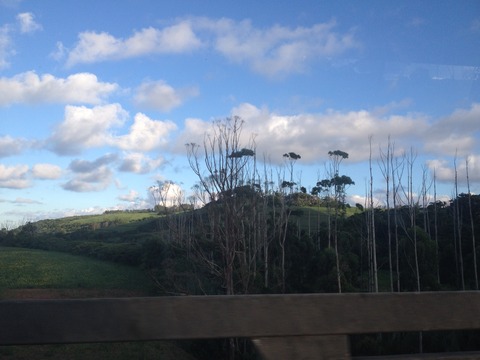 First impression is "it is similar to Hokkaido ."
Because of the Southern Hemisphere , South Africa is a summer season in February , and the breeze was blowing , it was good.


After arriving at the hotel I thought "I may fail this plan.That's why South Africa is very developped

"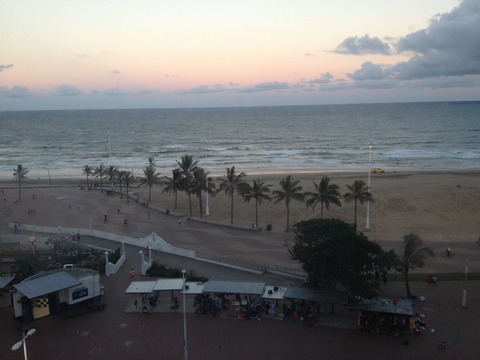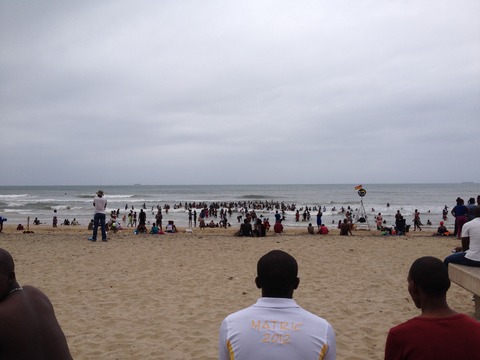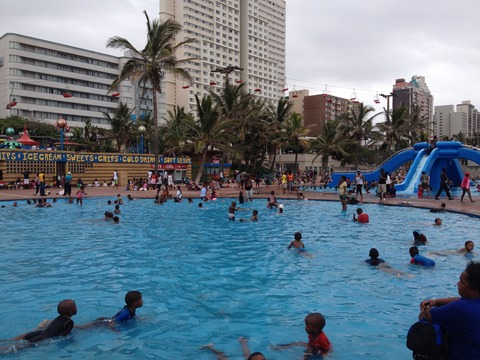 I wanted to search the poverty , but
GDP in South Africa is the first place in Africa .
In other words, South Africa is quite rich.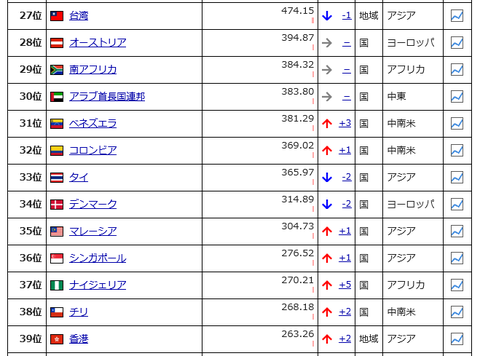 This country is 29 position in the world rankings of GDP.It was
a difference of about 1.5 times in Nigeria at the 2-position in Africa.


I was shocked at the first day


Some street performers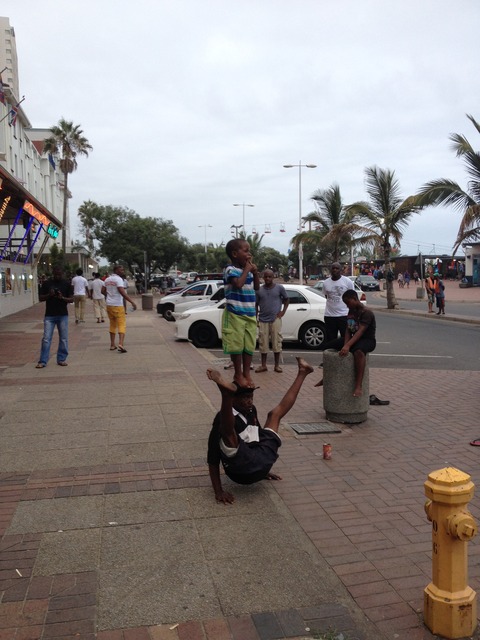 This is in front of the hotel , but there were also fairly begging here


And at night , there are also prostitutes.


While I was buying sweets and water at the shop , she asked " Sex on me? "

If you are buying something at the Seven-Eleven in Japan , do prostitutes come there?


I can see in the skin feeling bad security


I went to the back road , but it was not allowed by guide book . I feel the fear about back road that I was scared the way , I have turned back immediately


So there is no photo . This is a image about a back road.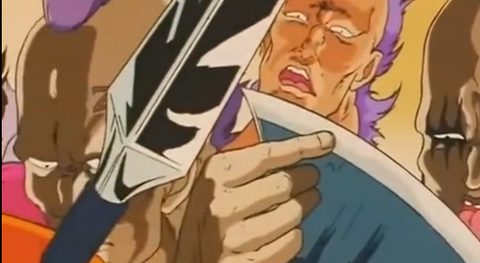 In the back road , black group of five or six is dotted , they stared at me ...


And I have only Asian face . I was anxious about this situation.
In my eyes , I looked like a picture on everyone anyway


I was back to running haste.


I caould look at the beach during the day , I only had to watch souvenir in Durban.


And I headed to Umutata .
Greyhound bus called 390 land certainly is ( about 4000 yen )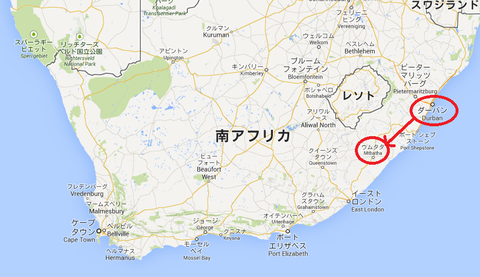 Over the course of about six hours , I arrived at the Umutata .
It was a small town.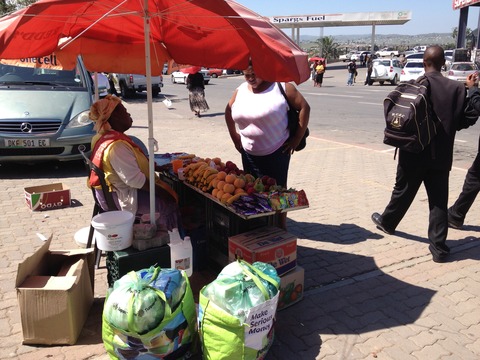 There is a town called Kunu away 20km from here. In addition, there is the grave of Mandela 's there .
H it is his hometown.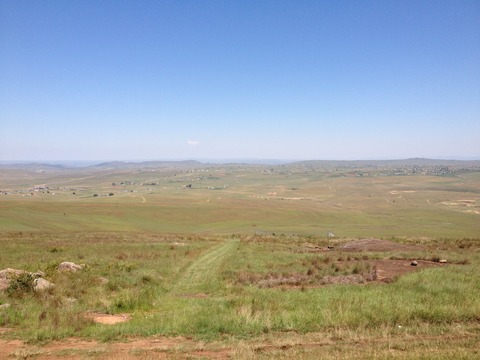 It is a town with nothing .
There is a grave of Mandela 's.

I encounterd unexpected accident.


" Hey, do not put it in the grave ," the security guard said.
"Do not enter , don't take a photograph" the security guard said.

" From Japan , I came


" I said.

Old man guard thinks a little ...

" I thought , no good "


I think that if I give a bribe perhaps , I could enter in a grave.


But , Mr. Mandela would not want me to do such a thing. I gave up entering .
Guide who was hired was also apologetic.


Asians who came to the grave , I am so the first time . O
ld man said this info, but I don't believe this info...
Instead of entering to the garve , I went to Mandela Musium in Qunu.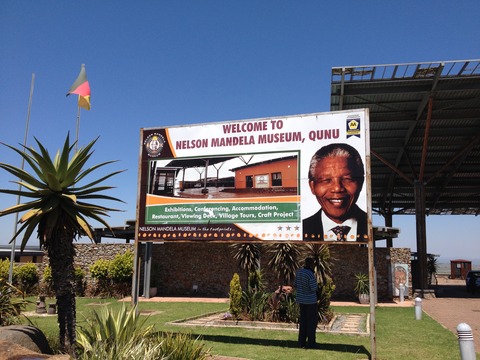 Shooting in the inside is prohibited .
They wanted to do a welcome "You came well " and again .
I returned Umutata , played with kindergarten children.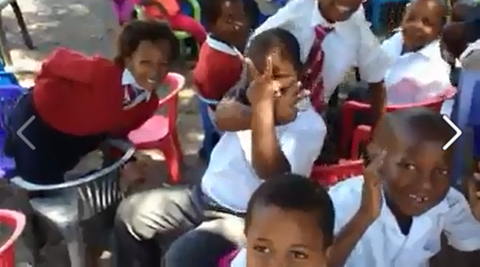 Please look at theire clothes .
Clothes are not dirty .
Umutata is a country side, but education is in good condition.


Before I went to the grave , I remembered the words of Mandela , who was in the hotel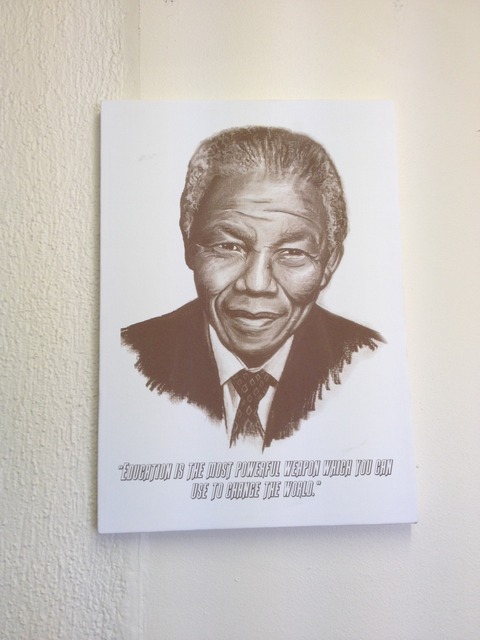 It is written like this way


" Education is the most powerful weapon which you can use to change the world."
Look at these words , tears flowed naturally .He
embraced the ambition where there is nothing like Kunu , he changed the country. It was amazing



After return to Durban , it's headed next , it is Cape Town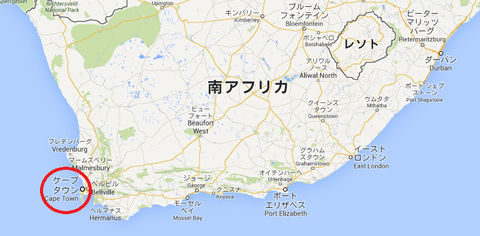 Center city seems so dangerous , I stayed in B&B away a little from city.
When I asked "Is it okay to walk around here?" , reply with " no problem "


I walk

Wall , how it is no problem? It seems to be the police of the ancient Greeks.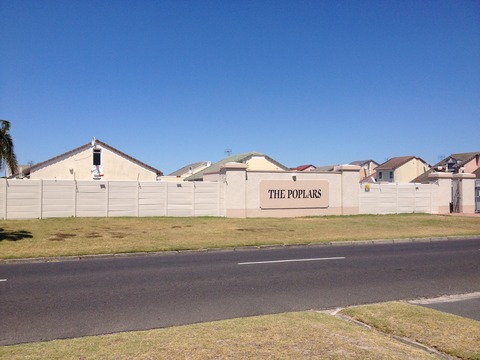 Why is it no problem ?
Fence is very high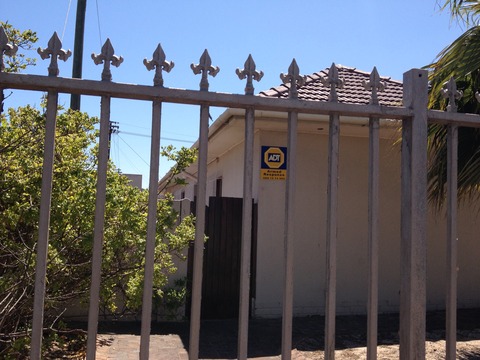 Why is it no problem ? It
rejects the intruder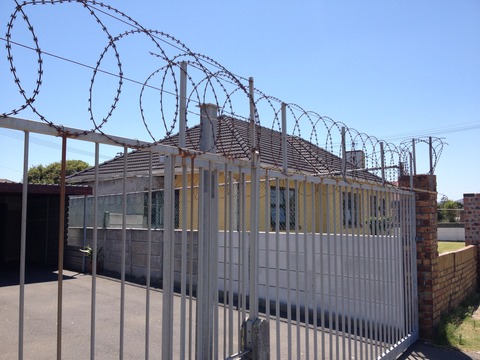 Why is it no problem ? It is
electric fence . If I enter, I will die....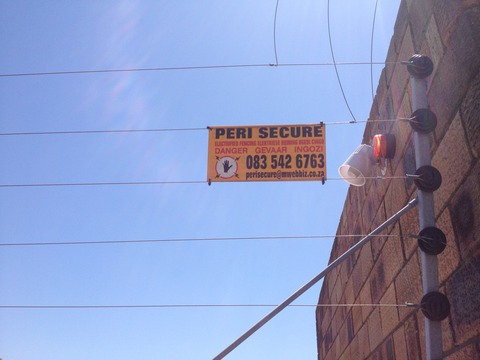 I thought security level of people in Cape Town is different .


Hotel owner said " the central shopping area ? You can go ", I went to the center city.

My chicken heart chartered a taxi . Taxi fee was
ZAR 400 per round trip( 4000 yen )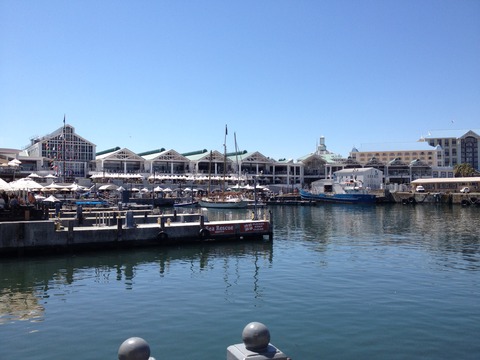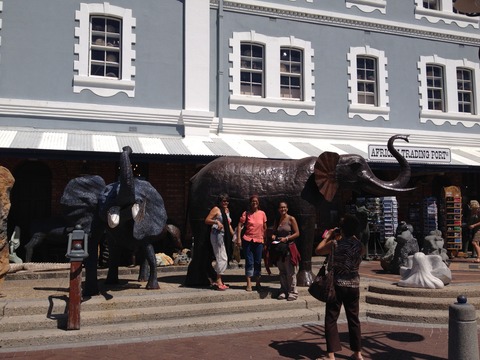 Very developped




It is a tourist area.
I have seen Asian people at first time here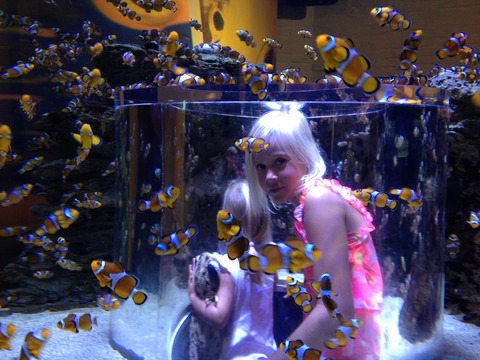 There is also an aquarium .
The girl looked at me . She may have curiousity about Asian face,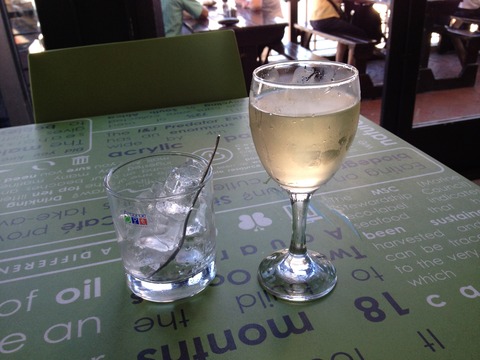 Wine is famous .
No bitterness in the taste basis , I feel fruity . I
think that it is suitable for Japanese.


I thought here .
"I 'm not a tourist



"


I went to the Cape of Good Hope the next day .
It is a place where Bartolomeu Dias has found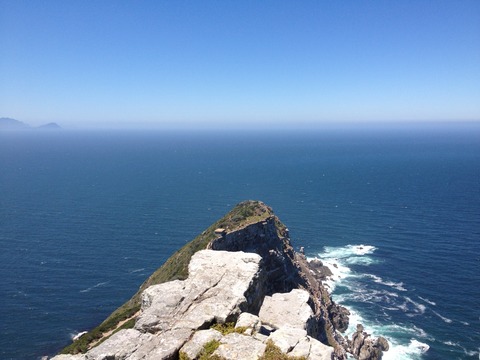 Here is the point at which the Atlantic and Indian Ocean collide .
Wind is very strong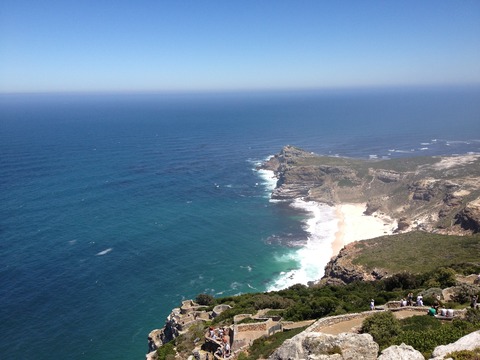 This is the Cape of Good Hope .
We are paying JPY 7,000 to drivers in the plan to only see this Cape of Good Hope.


I bought my safety with money.


I couldn't take photographs in dangerous area , but I went to areas with poor security


It was full of bad black eyed .
Nigeria come to sell drag , Driver talked about this story.


It is immigration problem

Also people that can not be educated satisfactorily and have low income, seem to worsen the security


It is a poverty problem

In South Africa , white people area and black people area are divided .
The part of the most corrupt is isolated , it is not possible for me to observe.


I bought my safety with money.
To step into the part of darkness , I must have experience and funds.


In order to do something in Africa , it was found that it is necessary to use money .
I think there 's my harvest.


And I was whispering in mind at every thing.


" Hey, through the body or through my eyes , look at the African soil , and here is scenery that you wanted to look at


"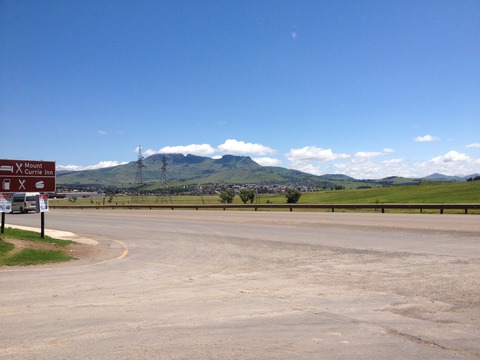 South African is similar to the Japanese in some points.
They are quiet , patient , and intelligent.

I thought the future of the people of this country is bright



It's impressive of all, it is that the African soil is always hugging us , always give me the warm feeling.


" Once again , I come here."
While I think so , I've left the land of Africa.
■スポンサードリンク